Discussion Starter
·
#1
·
Hi,First of all, let me say. I called this a wip because apparently I focused so much on trying to get "in progress" pics, that I have taken absolutely ZERO pics of anything installed.
So anyway, here are some pics I took while doing the install starting with a diagram of the basic setup I am using. (Some of you may have already seen the diagram in a previous post of mine)...
Here's my new Pioneer DEH-P4000UB. (not pictured is the Pioneer GEXP10HD HD tuner that came with it. Not the best, but it gave me features I wanted for a price I could handle.)
Next, I wanted to install my old set of Polk Audio MM6510 2-way components, so I made adapters to fit the stock opening.
Next, Just for a little fun I wanted to make a cradle for my Ipod so 1) it wouldn't be out in the open for everyone to see. and 2) it wouldn't get jostled around by the turns and bumps that come with everyday driving.
I also didn't want to ruin my ipod in the process of making the cradle.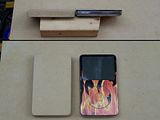 The pink stuff is 1 1/2" foam insulation covered with black fleece.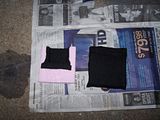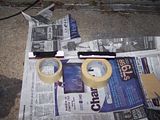 Ok, now I decided that I wanted to install my old amp and subs. However, the best equipment won't do squat without some good old power. 4guage StreetWires with a 100 amp fuse.
Then I stripped the interior down and prepared it for the FatMat, which I apparently got no pictures of that either. Nice....
And finally to the most grueling part of the install, the sub box....
Well, after several "great" ideas, which combined, resulted in me wasting about 4 days and about 1 full sheet of 3/4" MDF. (I was lucky enough to salvage most of the MDF. lol...) I decided to go with a more basic amp rack/sub box combo, and this is what I came up with.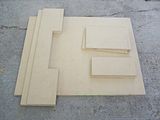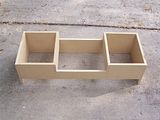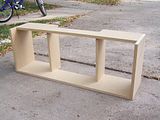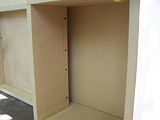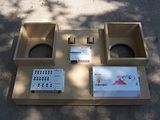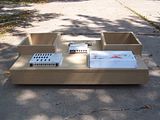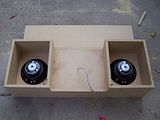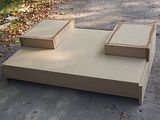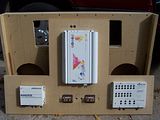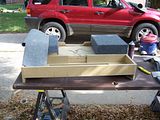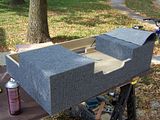 Ok, I'm very happy with the quality of the construction. But as time went on I started liking the design less and less. Especially after I put it in the back of my Escape and saw how it absolutely devours any cargo space I thought I might have in the end. On a positive note, this sucker slams.... oh yeah!!!!!!
I'll take some "finished" pics as soon as I can, (I still can't believe I don't have any....) Anyway, I hope you enjoy them and I look forward to your critiques...
thanks-epi