Discussion Starter
·
#1
·
Universal Joint - Center and Rear
Special Tool(s)

Installer/Remover, C Frame & Screw
205-086 (T74P-4635-C)
Removal and installation
CAUTION: Do not reuse the bolts and straps for either of the center U-joint or the pinion yoke U-joint. Install new bolts and straps or damage to the vehicle may occur.
NOTE: There is a difference in length of the head of the replacement yoke strap bolts from the production bolts. The longer head pinion bolts can be used in either location.
1)
NOTE: Index the driveshaft yoke to the driveshaft.
Remove the driveshaft. For additional information, refer to Driveshaft in this section.
2) Clamp the special tool into a vise.
3) Remove the snap rings.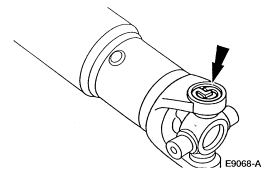 4) Press out the bearing cups.
* Rotate the driveshaft 180 degrees and repeat.
5) To install, reverse the removal procedure.