Discussion Starter
·
#1
·
Pretty well known that most Sync equipped Fords only have 1 USB port despite the Sync unit being capable of 2. I had planned on doing mine up when the weather is a little warmer but got bored this morning and did it now. I will probably go back and change a couple aspects of it and only consider this a temp install.....but I may leave it as is since it works and is hidden and all.
Anyhow for those interested.....
popped off the top part of the console. The sync unit is just fwd of the shifter under where the tray is, on the driver side. Worth noting is the second usb connector isn't bare/easy to spot if you dont know what you are looking for. I was going over it for a good few mins going WTF, there is no 2nd connector on mine despite all the comments that there are 2 ports on the net. Then it occured to me that the open silver connector was the exact same as the black occupied one underneath, so I really got my head down in there as good as possible to see what sort of pin configuration was in that open connector. Low and behold it was the standard usb mini B. Looks like Ford just decided to incorporate it into a wire harness connector.
USB mini B cable plugged in. Clears the surrounding connector part just fine. It's a tight fit getting your hands in there. I have relatively small hands and found next to no room to work with and took an aggravating couple mins to get it plugged in. If you have big ole sausage fingers, you may just want to get someone else to do this bit for you. There really isnt much room down there.
I had planned on using a cable as pictured below to basicly mount a permanent USB port to the fwd wall of the lower hidden console area, but after popping off the top part of the console, an existing factory hole was revealed, so I decided just to make use of that hole for now, and simply used an A type M 2 M adapter to join 2 standard mini B HDD cables together.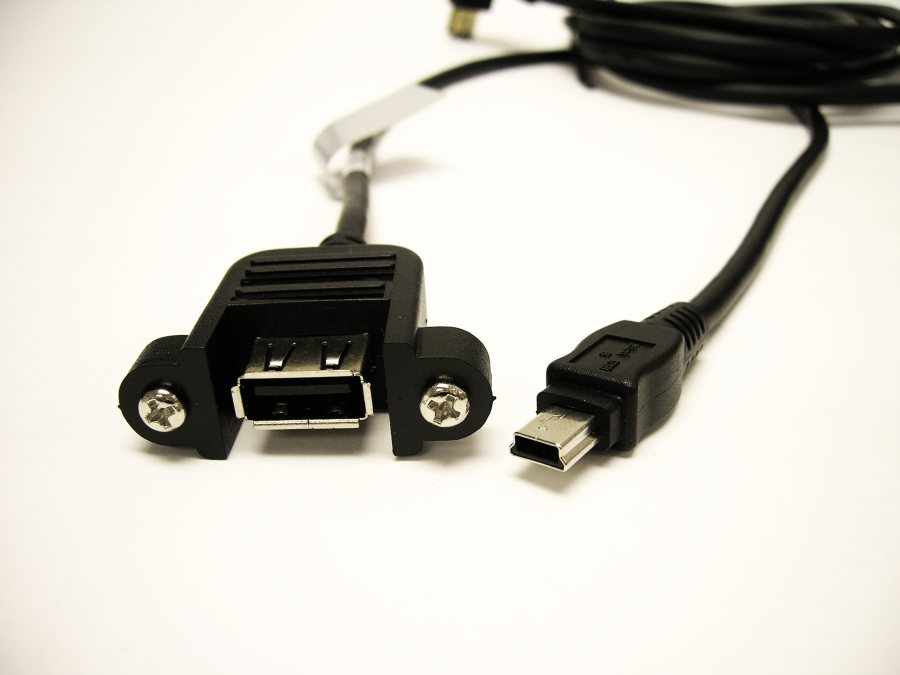 top of the console popped back on and everything finished. Test drive hooked up and worked great. If I leave it as is, I will decide on an exact position I would like the drive to sit, then attach some velcro to the bottom of the console as well as the bottom of the hard drive so it will be held in place reasnobly securely yet easily removeable to bring in the house to edit drive content.
Total time..about 10mins including the solid couple mins it took me to realize where exactly the 2nd port was. haha.