Hey guys, thanks for thinking about me :blush: :blush: :worry:
Well, after all the severe weather warnings for this part of the world, I started my 4 mile journey to work at 5am..
The snow had indeed arrived, and was up to 8 inches deep, which resulted in the normall 15 minute journey taking 1 3/4 hours :shock: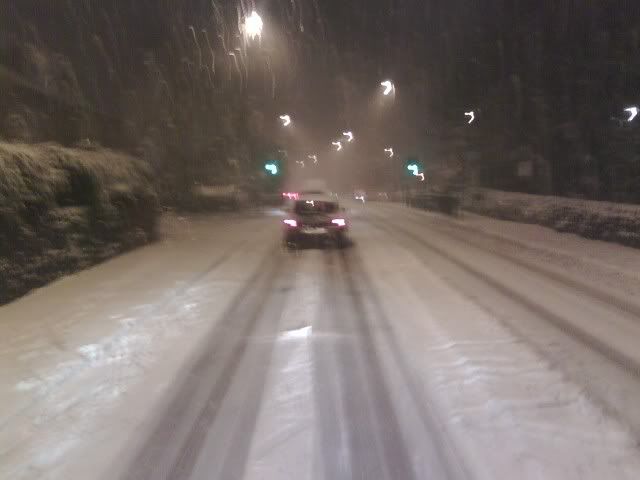 This wa as a result of 5 jacknifed artic lorries, 3 car crashes, and at least 20 abandoned vehicles, plus the normal idiots who can't drive in snow, getting in the way.
When I finally got to work, jumped in the coach to go to Leeds city centre. it took me 3 hours to travel 2 miles to the nearest rounabout to turn the coach around, as the roads were just turning too dangerous, indeed one accident, involving a gritting lorry and a double decker bus, resulted in the bus being on its side :shock: , I counted another 35 accidents involving cars that had either crashed into each other, or into walls / roadsigns etc.
This resulted in various road closures, school / factory closures, indeed the local McDonalds only had 2 members of staff running it today, when I called there for my (late) dinner.
The rest of the day was spent doing very important duties at work, creating the snowman,
and drinking copious amounts of coffee, until it was safer to return home, which I did at about 16:30, the journey back only took me 1/2 hour, as there was very little traffic, it was just a little bit more interesting avoiding abandoned / crashed vehicles still awaiting recovery.
Tomorrow, well, at the moment its about -2 c, so all the molten snow has now frozen, resulting in the roads becoming ice rinks, again, but the re is more heavy snow forecast for tonight/ tomorrow morning :bang:
BTW, the Maverick did very well in the snow, first time I've used it in 4X4 mode, very impressed, didn't skid / lose control once, couldn't have made it to work without it :thumb: