You did not mention where you live (cold weather) and what year your Escape is. The battery pack looks below:
Yes there is an internal hybrid battery heater. BUT..if requires
option 41H
to work with the engine block heater. There is a thin electrical wire that comes out of the hybrid battery pack and runs thru firewall, into the engine compartment and ends under the radiator coolant bottle. The engine block heater (option 41H) has wire that connects to this location and thus to the electrical outlet to provide heat to the hybrid battery heater. When the hybrid battery heater is COLD, it will perform a series of charges and recharges in an attempt to warm itself. Your gas mileage drops significantly when the hybrid battery pack is cold. When it is cold it doesn't accept and release electrical amps as fast as when it is warm.
BUT wait, there is more, early in the 2008 model year, FORD Motor company made a change and no longer provided the wire from the hybrid battery pack to under the coolant reservoir bottle. You might be out of luck if you have a 08 or newer version. See below for what the newest vehicles look like: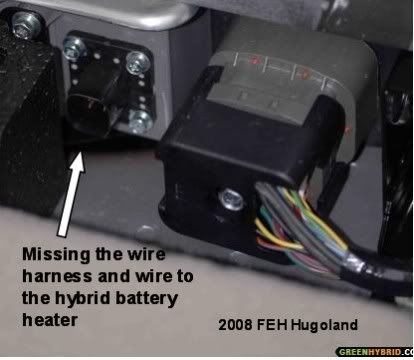 Hope this helps.