Discussion Starter
·
#1
·
(click on thumbnails to enlarge)
My first exterior mod was adding some fog lights. These lights were on sale, but looked really weird.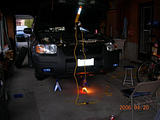 My next mod,
detailed here
, added bigger off-road type fog lights and relocated the previous lights for something of an "interceptor" look. I also added 55 W lights in the rear for reversing.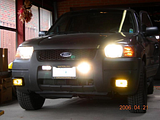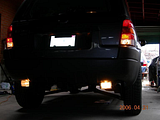 I then removed the low-profile fog lights (ick, blue!) in favour of mounting off-road type driving lights in the transmission cooler openings, and some slightly smaller fog lights that could fit inside of the stock opening instead of hanging in front.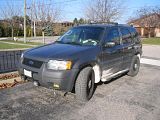 I moved further north into the boonies so I needed a little something extra to help me plow through the snowdrifts. I added a full brush guard with Grade 8 mounting hardware and mounted the 55 W driving lights from the cooler opening onto the brush guard. I also removed the rear lights because I kept backing up into snow and they would disappear into the bowels of the bumper cover. I also updated my recovery points to HUUGE D-shackles, but they aren't visible in the pictures below. No good angles exist yet for the new look, so these snow scenes will have to do. :?