Discussion Starter
·
#1
·
I added a remote filter mount from B&M. I managed to find a place to mount it upright, so that I can prefill the filter and install it without spilling a drop.
(click on thumbnails to enlarge)
Here's the filter itself, mounted inside the driver side wheel well. To get a better idea of where it is, the red and brown wires are going to my (non-stock) fog light.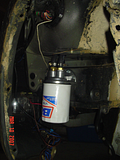 The cooler hoses were routed out of the resonator opening. I removed the stock intake tubing and cut open my airbox, so this was available to me. Those of you with a stock intake won't be able to route hoses through there. You have to be careful when installing the filter mount itself; if you don't place it in exactly the right position, the hoses might rub against the metal of the opening.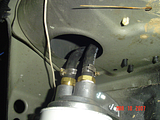 I've circled where the cooler line attaches to the radiator. The other side of that hose goes into the "Out" port of the filter mount. The cooler return hose used to be routed along the red line, but it got in the way of installing and removing the filter. I used the pre-formed tubing originally used for the input hose, along with a 3/8" hose connector, to lift the return line out of the way.
Here are the two hoses going into the resonator opening: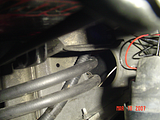 This is the cooler input hose, which is in the front of the transmission. The pan is on the right side of the picture. The other end of this hose goes into the "In" port of the filter mount.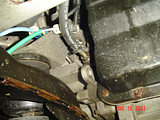 In order to get to the filter without having to remove the splash shield, I cut two holes in the gravel shield that attaches underneath the transmission. The red hole used to be a bunch of little air holes. I took a jigsaw and cut it into one big hole, just big enough for the filter and my hand to fit through. The green hole used to be solid plastic, separating the engine bay from the compartment where the resonator, left fog light, and now the filter are. Since dirt and debris could now get into that area, I also used a 1/2" drill bit and cut three small drain holes at the bottom of the plastic splash shield piece.
It has now been 30,000 km since I put the filter in, and no issues to report. I have been running Dexron VI for the last 20,000 km or so, but the initial 10,000 km with Mercon showed definite improvement in retaining shift quality between drains. I moved three magnets from the six I had on the oil filter over to the transmission filter to help with the magnetic drain plug.