Discussion Starter
·
#1
·
These first two photos, i sourced from a net site page.
' HINDMARSH ' is a suburb of adelaide. This was the style of architecture, used in the late 1920s and early 1930s. It relied on severe geometric forms ( lines, circles etc.) for decoration as well as construction.
They must have refurbished the town hall. Have never been inside. Will observe the inside when i have spare time. I took some night shots. Had to touch them up with Photoshop program.
Disregarding the art deco history of this building, i can also see symbolism. But then it could be my imagination. The town hall overall doesn't bother me. They have done a beautiful restoration.
The items that intrigue me, are the " two characters " on top of the poles. No not the flag poles. They are at the side street entrance. Do you see what i am observing? From the back i can see a pair of ears. In the last photo disregard the poles. To some people ,those two shapes might be abstract.
Not sure why, but my ' two characters ' are missing detail. Just think of " EGYPT " Now you might see what i am referring to. Think back to the time of " SPHINX ". Try to visually picture a creature with long ears, that was depicted during the " PHARAOHS " time. The egyptian ' ANUBIS ' jackal had long ears.
Other people might not perceive it, but i can see the side profile of the ' egyptian jackal ' on my ' Two characters ' Those gold color triangles with black background, just above the gold coloured columns, appear to be symbolic.
These first two shots are sourced from a net site.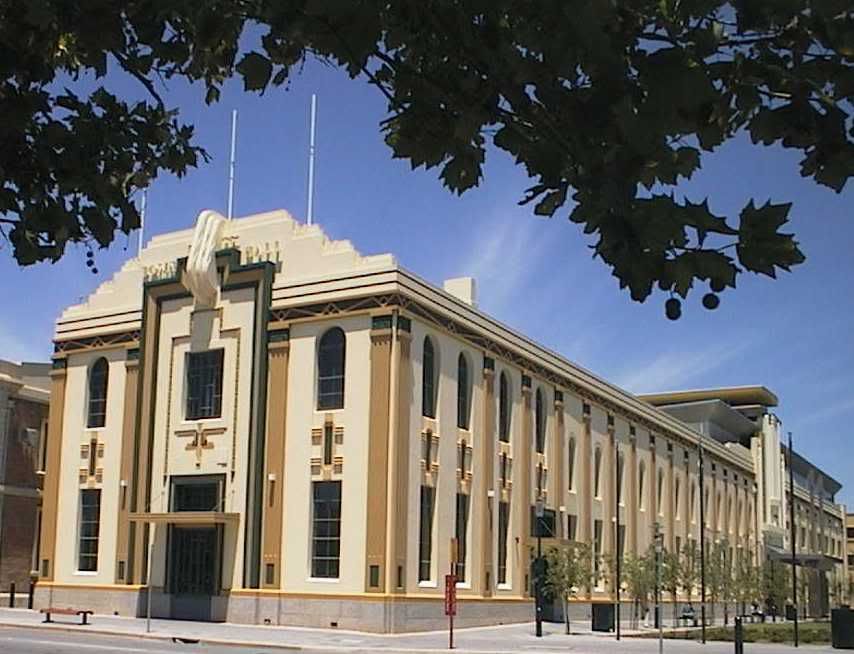 These are my night shots. Had to tweak them with a Photoshop program.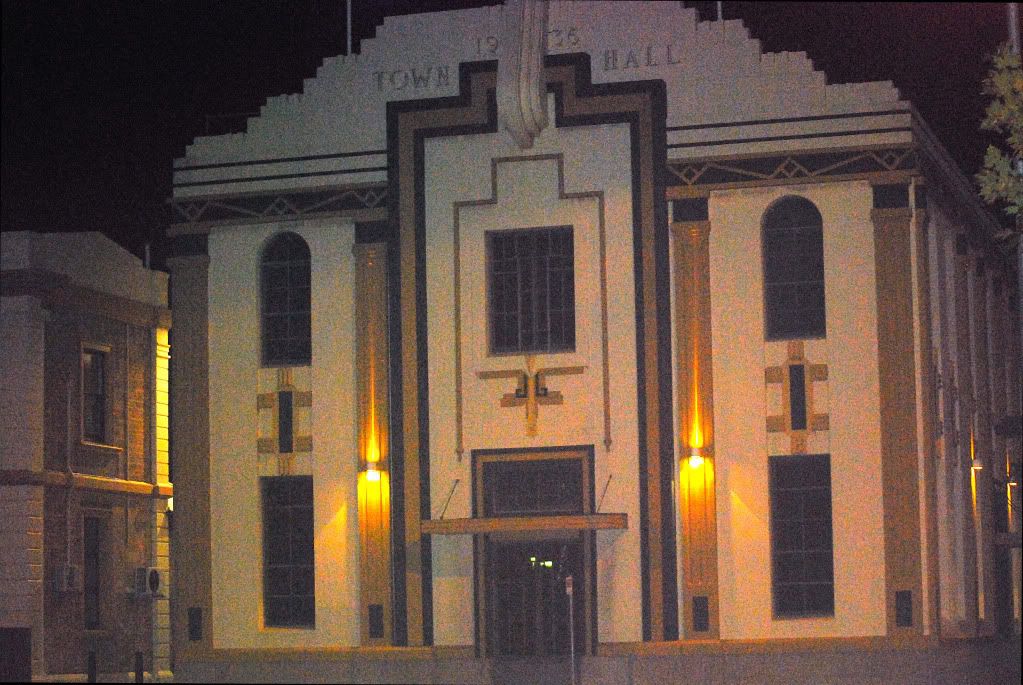 Those two triangles on top of roof. It could be abstract. Not sure what i think of them. They are not ' art deco' from 1920's or 1930's. I had a quick look during daytime. They appear to be a recently new addition. That front facade is obviously ' art deco'.
Now can you see a pair of , ' Long egyptian jackal ears' on top of those poles ?. Some will observe other things, and it could be possibly abstract.
This is my last night shot. Thought i would show a side profile of the ' two characters with details missing ' They are obviously on top of two poles.