The Turtlewax ICE paste wax for the exterior works VERY WELL. It's fast and easy to apply with the supplied foam applicator, and it's fast and easy to strip off with a microfibre towel. I used to use the Turtlewax Platinum paste wax all the time, but the ICE stuff is actually softer/easier to work with, and as mentioned by other posters on here...it doesn't leave any residue, and leaves an awesome deep glint to your clearcoat...for example, after using it, I can see the different shades of metallic in my paint (and this isn't the easiest feat to accomplish with silver paint), and I had a shop that does automotive detailing comment/compliment me on how rich my paint looked, and asked me what I used (I was there getting the floors and floormats cleaned there). As for the inside stuff, haven't tried it yet...
Here's what I'm talking about...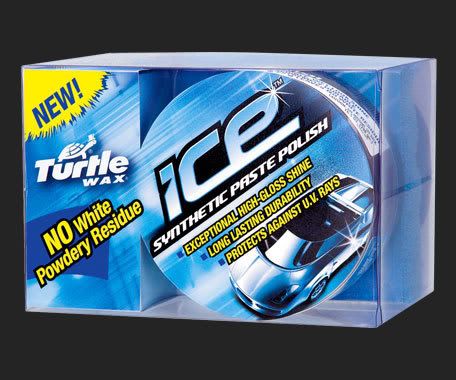 Works great, AND it can be applied in hotter or colder weather than conventional waxes too...