Discussion Starter
·
#1
·
Besides the PlastX, there aren't very many Meguiars products that I've bought/tried in the past that I felt worked properly or were worth the money spent on them. However, here is another one of the few products from Meguiars that I find actually works to my satisfaction, and don't mind spending the money on...It's the Meguiars Gold Class Rich Leather wipes.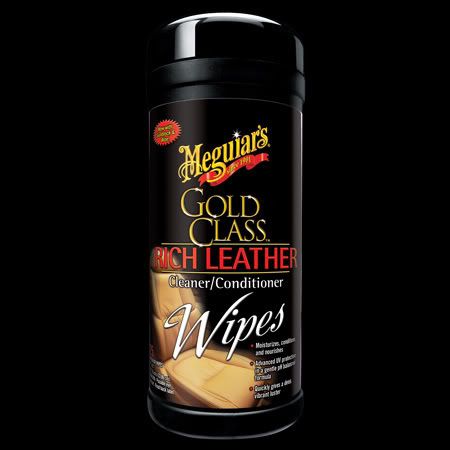 This product wipes onto my interior leather quickly and easily, with little-to-no requirement to go over the same surface areas more than once. It makes the leather really shiney at first, and leaves a nice lustre to it after it absorbs into the leather, leaving it softer, and stopping it from feeling/being dry. I can usually do all of the seats, headrests, steering wheel, and the door inserts with only about 4-5 wipes/sheets, and I can get the entire interior done with them in about 5 minutes. It also leaves a pleasant smell inside the truck too that lasts for several days, and the sheen and feel of the leather lasts for about a week as well (longer actually on seats that aren't used).
This is a superior product to Armour All, and though it's a few dollars more per tube, it's worthwhile to buy, if you like having clean and soft leathers like me...
L8tz