Discussion Starter
·
#1
·
I must highly reccomend this product to anyone with a Ford Vehicle, or ANY domestic vehicle built in the last 10 years. It's made by Meguiars, and it's called PlastX. It's actually a micro abrasive/polishing compound/wax for clear plastic. I've been using this for several years now, on the tailights and headlight lenses of my 01 Focus ZX3, my 05 Mustang GT, and most recently, my 06 Escape Limited. It removes oxidization from the sun off the surface area and pores of the plastic, and then it fills the pores in like wax does to your clearcoat. I usually just shake the bottle, apply some to a Shop Towel, and rub it right into the plastic of the lense in small circular motions. I let it start to dry to a haze, and then I buff it off with another clean shop towel. Doing at least 3 coats per lense will make them crystal clear, and they will repel water, dirt, and bug guts to some extent, making them easier to clean later. If you want a really good example of how well this stuff works, go and find a Mercury Topaz or Sable with the "Light Bar" grille. They are usually turning rather yellow from oxidization. Using some PlastX and elbow grease (or a 6" orbital polisher), you will be able to get at least 80% of the original finish back.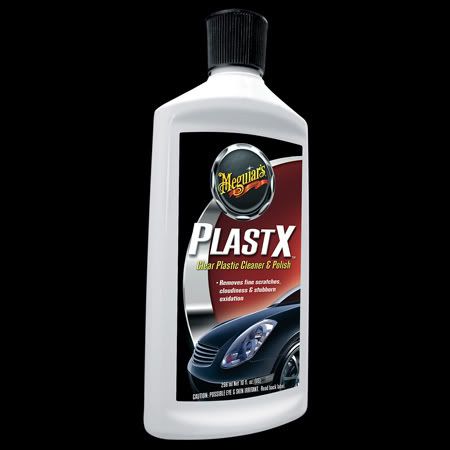 You can get this at Canadian Tire, UAP/Napa, Partsource, and likely many retailers in the US like O'Reily's or Auto Zone, etc.
I use this product on my headlight and tailight lenses every time I do spray waxes to the truck (between claybar and paste/liquid waxjobs).
You won't be sorry if you use it!