Discussion Starter
·
#1
·
My wife and I picked up our new escape on the 19th of January and I figured I would post a couple pics.
The colour is Gold Leaf metallic. I would have preferred Sterling Grey or Black but alas, none in the area with the options we wanted so this was a close third. I've only ever owned black cars so this is a nice departure. We shall see how I like it a year from now.
It is pretty basic, we went with the V6, AWD, Sync and Convenience group and are very happy with it at this point. We got it with 84 KM on it and have run it up to just over 1300. Looking for excuses to go for a drive these days.
I was initially worried about the gas mileage coming from an 02 golf but haven't really noticed a big difference, other than the tank costs more to fill obviously. Gas mileage is hanging right around 12 L/ 100 KM.
The AWD makes a huge difference in the snow and the extra clearance is great. With a good set of winters this thing is unstoppable so far.
First pic is fresh from the dealership. First thing I did was install a hood deflector. When I purchased my Golf (the same day in fact), I took a huge rock on the front part of the hood, forever marring my paint job.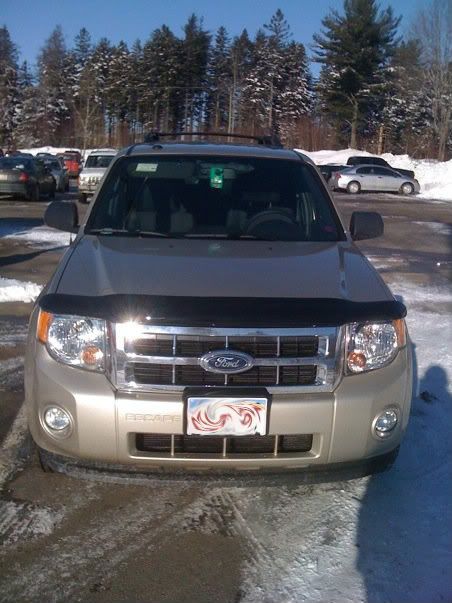 This is a pic of my (
very very pregnant wife
) wife in front of it down by the river here in Fredericton. We took it out to test the capability in the snow and play around with the AWD. We sent a card with this picture to her grandfather as he hooked us up with a pin for the A/Z plan. Made a big difference for us.
And last, but for sure not least is a picture of the greatest feature in a vehicle ever. i would choose this over leather and navigation any day. The Kleenex holder. haven't used one yet but it is reassuring to know they are there:
My only complaint is that the colour is a little plain, but that is our fault for being impatient.
Oh, and I love this site!