Discussion Starter
·
#1
·
Just like the Invisible Glass aerosols that were mentioned by another board member, Stoner makes a lot of products that work, and work well. These ones are no exception...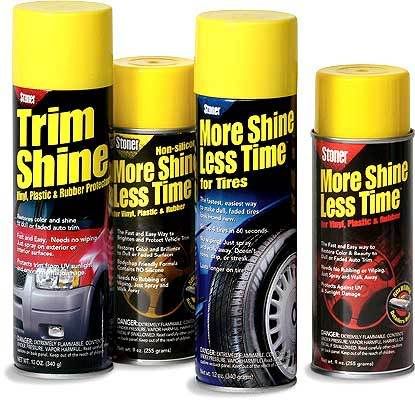 I use Trim Shine on my exterior mirrors, the plastic mouldings on the rear doors, the front grille, and even the lower air diffuser at the bottom of the front bumper. This stuff makes all of my exterior plastics look nice and rich and dark black, the way they should to compliment a wax job. I also use it on my interior plastics too (dash, console, doors, rear interior 1/4 panels, etc), and for both the inside, and the outside, I just use Scott Shop Towels to apply the Trim Shine. Just spray it on the shop towel, and then rub the product onto the plastic with small, gentle cirlces and strokes. Easy to apply, and any overspray on glass or other materials you don't want the Trim Shine on, just wipe off with a clean/new shop towel or microfibre cloth, and you are good to go. On the exterior, it lasts upto a week or more on the mirrors and front grille, and on the interior, it can last upto 2 weeks, and DOES NOT "Gas-off" onto the interior glass like Armour All or other products do.
Definately a good product, and I usually buy a new can or two of it at the same time as invisible glass...