Actually, the North American 2008+ Escapes, Mariners, and Tributes have no amber rear signals, in keeping with the archaic, stupid US laws that don't mandate amber rear signals or side repeater lamps. So to save a few pennies, Ford chose to go back to a (bland and boring) single combination stop/tail/turn bulb on the new models, even though the Escape and Mariner have an unused clear lens at the top of each tail lamp (the Tribby doesn't). Note the fake chrome bulb-like thing inside the Mariner's lens: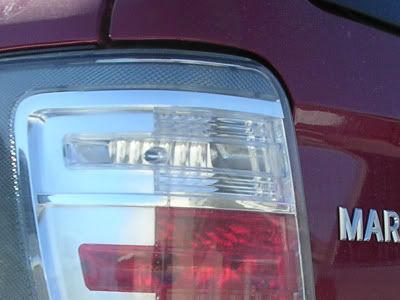 It's too bad, because those things would look awesome with amber bulbs in them.
:cuss:
So the red flashing icons are the
hazard
lamps, as we see them here in the (
forget safety, just keep it cheap for the manufacturers
) US.
Anyway, the key to the icons:
* A red exclamation point means you've posted in that topic.
* Gray topics mean that you've read them.
* Anything flashing means that it's a "hot topic" (more than a certain number of posts).